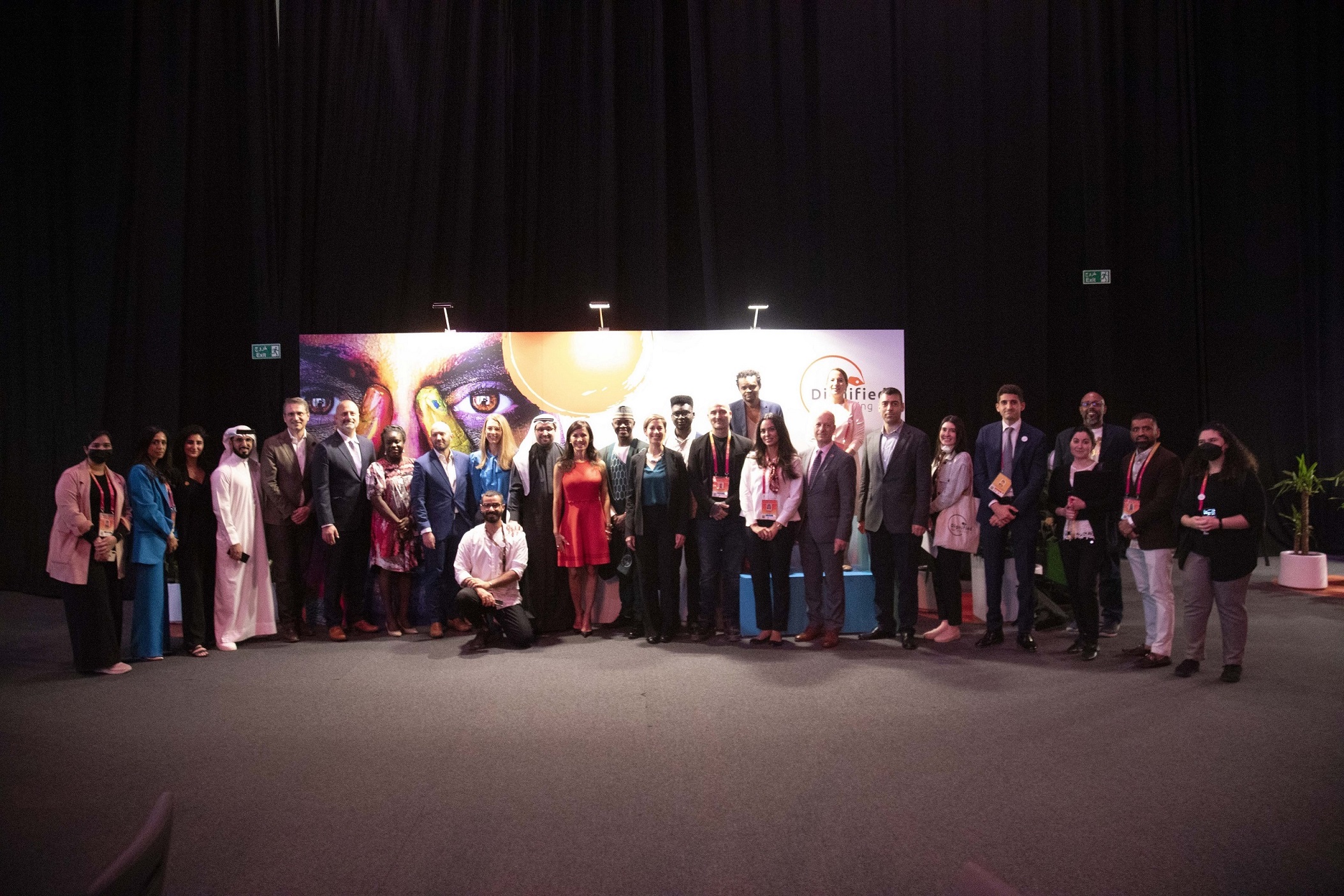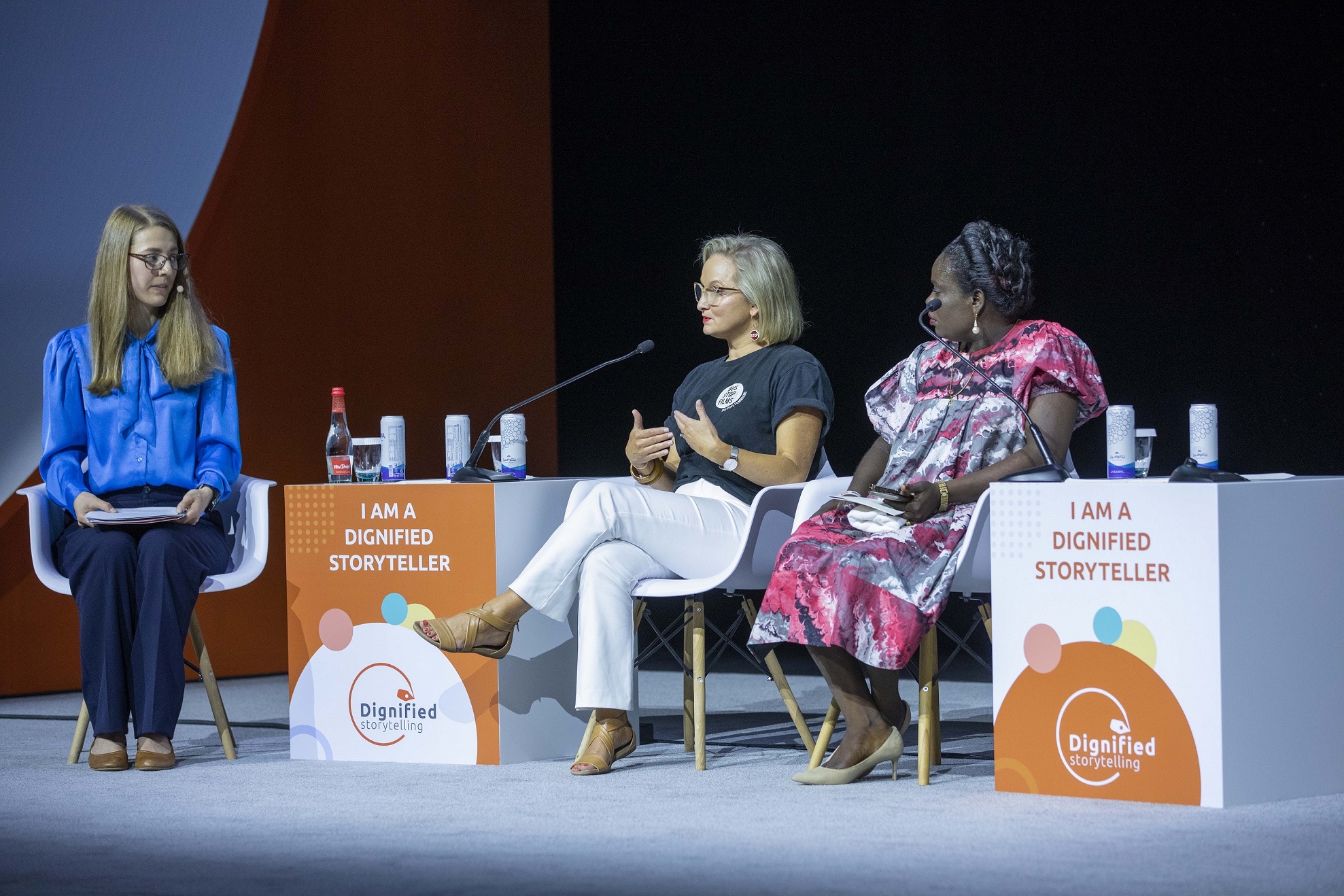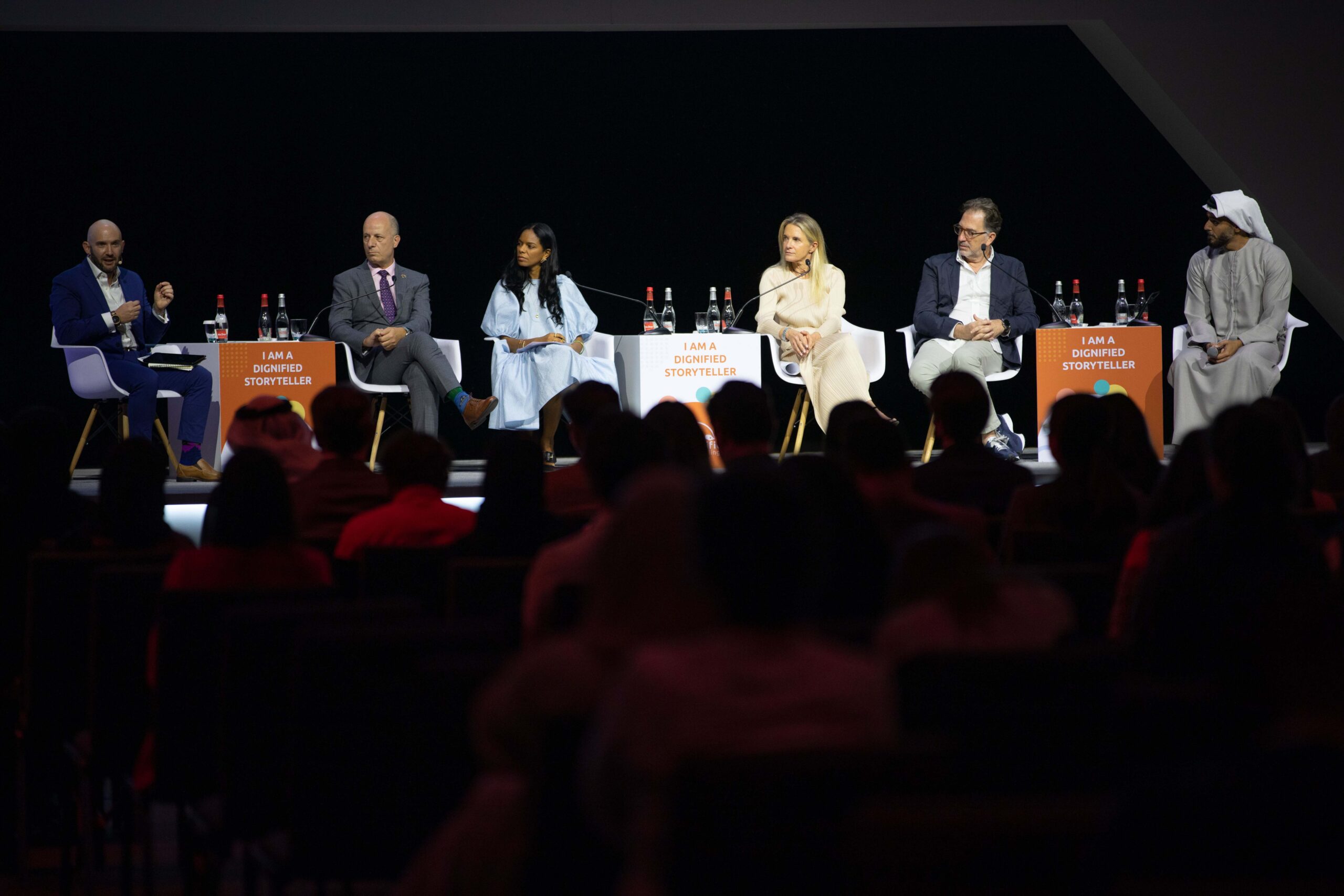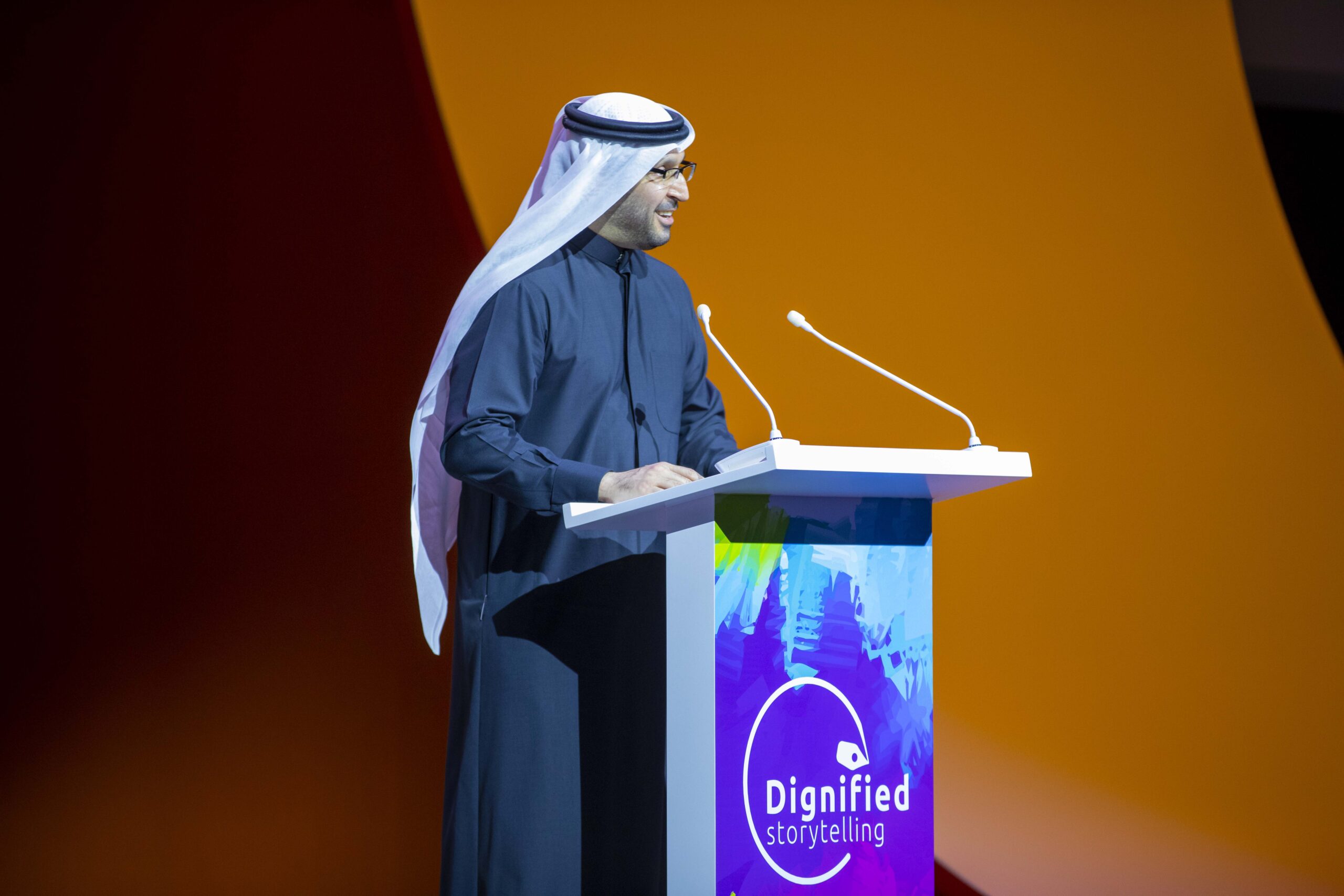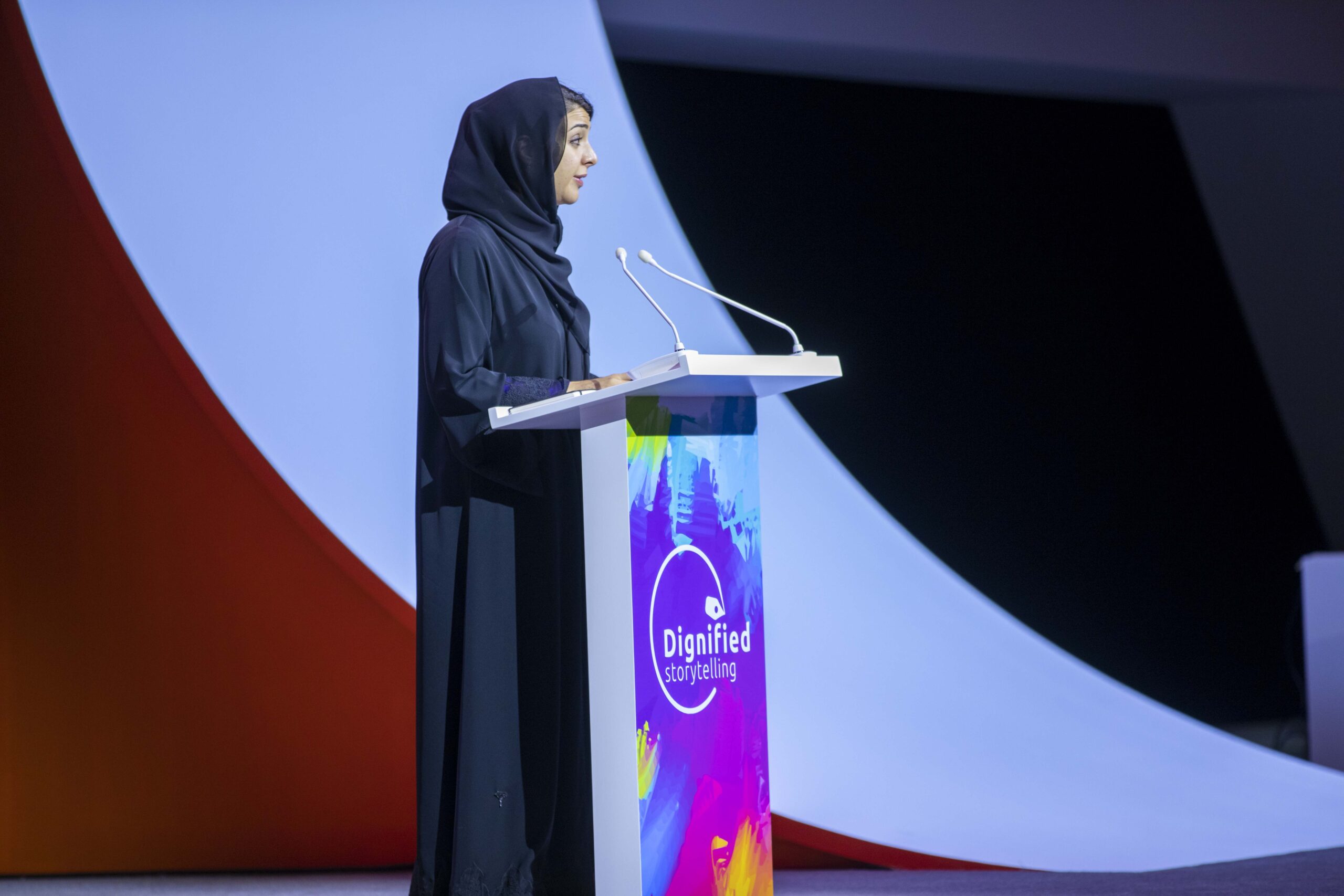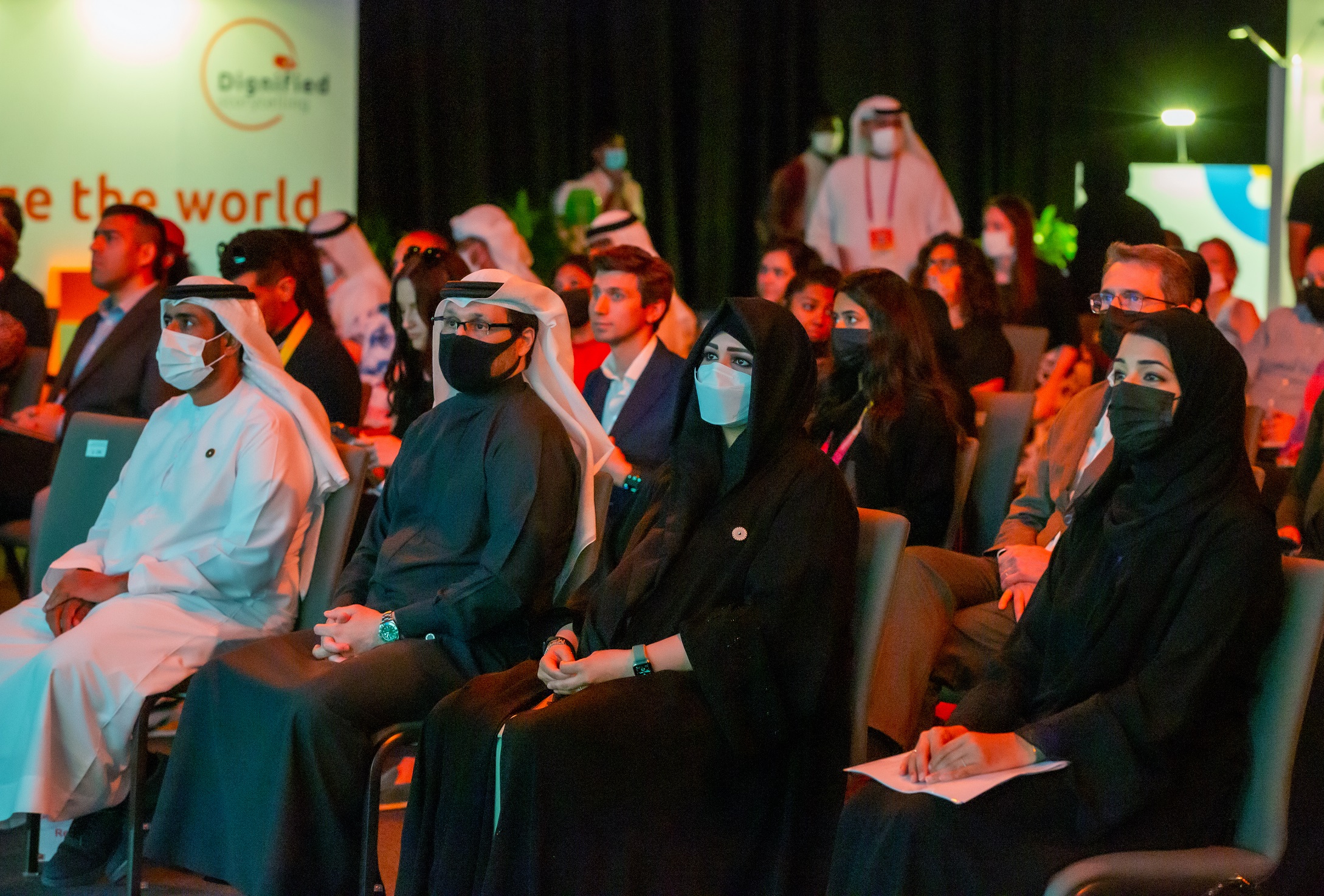 أخبار
أخبار عالمية
تنمية
ثقافة
UAE leads a global movement reshaping the practice of storytelling in humanitarian and development contexts at the Dignified Storytelling Forum at Expo 2020 Dubai
In the presence of Her Highness Sheikha Latifa bint Mohammed bin Rashid Al Maktoum, Chairperson of Dubai Culture and Arts Authority (Dubai Culture)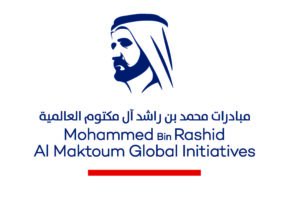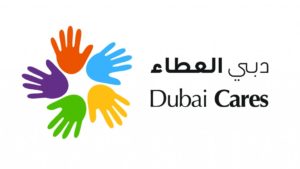 Her Excellency Reem Al Hashimy, UAE Minister of State for International Cooperation and Director General, Expo 2020 Dubai inaugurated the event that took place under the theme: "A story can change the world"
The high-level gathering convened more than 25 speakers from various sectors to discuss the importance of dignified storytelling in policy and practice at individual and country levels
Hundreds of participants left the forum as Dignified Storytellers, having committed to the Dignified Storytelling Principles through the Pledge
The Dignified Storytelling Handbook was launched during the Forum as a powerful tool with concrete examples and practical advice for telling stories grounded in the Dignified Storytelling Principles
Dubai, UAE, 
Sallam Sallam 
Representing the UAE's commitment to leading a new global movement that hopes to reshape the practice of storytelling, specifically within humanitarian and development contexts, more than 25 leading voices convened under one roof at the Dignified Storytelling Forum to champion the importance of telling stories with deep respect, full transparency and social responsibility. The Forum opened in the presence of Her Highness Sheikha Latifa bint Mohammed bin Rashid Al Maktoum, Chairperson of Dubai Culture and Arts Authority (Dubai Culture). Through storytelling, the forum aims to garner solidarity around global challenges, and highlight areas of mutual interest and importance across local, national and international levels.
The event, which took place at the Dubai Exhibition Center at Expo 2020 Dubai, kicked off with welcoming remarks by His Excellency Dr. Tariq Al Gurg, Chief Executive Officer and Vice-Chairman of Dubai Cares and opening remarks from Her Excellency Reem Al Hashimy, UAE Minister of State for International Cooperation and Director General, Expo 2020 Dubai.
Taking place ahead of Expo 2020's Knowledge and Learning Week, the Forum, which welcomed more than 700 participants (in-person and virtual), witnessed the launch of Dignified Storytelling Handbook. This provides 'how-to' guidance on applying the 10 Dignified Storytelling Principles, accompanied by a series of stories illustrating the Principles in practice.
Participants were also encouraged to take the Dignified Storytelling Pledge as a key advocacy tool aiming to build momentum for the initiative by expanding the network of advocates and practitioners. The Pledge commits organizations and individuals to positive social change by being mindful of the manner and context of the stories they share. The handbook can be accessed on www.dignifiedstorytelling.com and a summarized version was made available for participants attending the Forum.
Her Excellency Reem Al Hashimy, UAE Minister of State for International Cooperation and Director General, Expo 2020 Dubai, said: "In the UAE, our striving for human dignity for all can be traced back more than 50 years, to our inception as a nation, one infused with the values and vision of our founders. The country is proud to be leading by example in the recognition and amplification of exceptional voices from around the world, bringing new and extraordinary insights to a global audience, while maintaining the fundamental concept of universal respect, freedom with accountability and progress in hand with dignity. More than 100 individuals, in their role as Alliance Members representing international development agencies, INGOs, NGOs, foundations, charities, corporations, universities, and media companies as well as freelance photographers and videographers have inspired us with their tenderness and tenacity, their strength, their clarity and their insistence on the value of open communication and full explanation, so that we are able to minimize risk in the way that stories are told."
His Excellency Dr. Tariq Al Gurg, Chief Executive Officer and Vice-Chairman of Dubai Cares, said: "The practice of storytelling, if not approached with sensitivity and care, runs the risk of putting contributors in mental and physical danger as well as limits their rights and ultimately creates inequitable systems. The Dignified Storytelling initiative was launched with an aim to address these issues and enable professionals working in the humanitarian and development contexts to tell stories with dignity. Today, at the Dignified Storytelling Forum, the UAE proudly presents to the world the Dignified Storytelling Handbook that will not only empower storytellers, but also individuals whose stories are told, through definitive guidance on how to best share them. I urge everyone involved in this space to always remember that a story can truly change the world, so let's contribute to changing the world by changing how we tell our stories."
The Forum's jam-packed agenda featured high-level speakers from diverse sectors who shared best practices as well as eye-opening content stressing the importance of embedding Dignified Storytelling in policy and practice at individual and country levels. The key objective was to empower the role of the storyteller to include individuals and organizations from all industries, where they will have developed deep respect around storytelling and social responsibility by sharing their experiences in an authentic and ethical manner.
Participants also enjoyed an immersive poetry performance by Chief Moomen, Ghanaian Poet, Playwright and Creative Entrepreneur who brought to life the Dignified Storytelling Principles using real life examples and stories; in addition to a special appearance by Micheal Aboya, Winner of the 2019 Agora Award, who announced the launch of the 2022 World Agora Awards in collaboration with Dignified Storytelling.
Speakers for the Forum's Main Program included Maher Nasser, Commissioner-General of the UN at Expo 2020 Dubai and the Director of Outreach Division in the UN Department of Global Communications; Issam Kazim, CEO, Dubai Corporation for Tourism and Commerce Marketing (DCTCM); Rashid Al Falahi, UAE Chief Storyteller and Member of Dignified Storytelling's Advisory Committee; Dr. Rebecca Swift, Senior Director and Global Head of Creative Insights, Getty Images; Rocco Blume, Head of Advocacy, WarChild UK; Joung-Ah Ghedini-Williams, Head of Global Communications at UNHCR; Nassib Boueri, CEO, Wunderman Thompson MENA; Elisabetta Lattanzio Illy, Journalist and Photographer (UNIDO Goodwill Ambassador); John Hecklinger, CEO, Global Fund for Children; Gwen Hines, CEO, Save the Children UK; Tracey Corbin-Matchett, CEO, Bus Stop Films; Valentina Castellani-Quinn, Award-Winning Film Producer, President and Chairman, Quinn Studios Entertainment; and Waleed Shah, Photographer, among others.
Nassib Boueri, CEO, Wunderman Thompson MENA, said: "Within our ever changing world and technology crossing all barriers in deploying information, the only constant that we strive for is the integrity of the story and maintaining the dignity of those involved."
Valentina Castellani-Quinn, Award-Winning Film Producer, President and Chairman, Quinn Studios Entertainment, said: "Drawing from my own personal experiences and having transformed tragedies in my life as winning experiences that others can be inspired from, the theme of today's Dignified Storytelling Forum 'A story can change the world' resonates deeply with me. Content and entertainment are the most powerful platforms to convey an idea and create change in society because our human connection creates a bridge towards universal unity. I believe today's Forum and the 10 principles of Dignified Storytelling that form the nexus of it will give rise to a lasting movement in the global storyteller community to tell stories responsibly, inclusively and respectfully."
Dignified Storytelling will actively and consistently strive to maintain the movement created amongst storytellers within the Forum, a movement that enables policy makers and content creators to join efforts in visualizing the Dignified Storytelling Principles and the Handbook throughout the creative industries and across society.
As part of its future plans, Dignified Storytelling aims to encourage organizations and storytellers to utilize the handbook through the initiative's outreach efforts, in addition to launching the alliance engagement strategy that will provide Dignified Storytelling members the opportunity to build awareness through events and workshops. In addition, it seeks to offer online and offline training sessions on the implementation of the 10 Dignified Storytelling Principles and organize five further thematic events on Dignified Storytelling as part of Expo 2020 Dubai's Programme for People and Planet.